Everyone loves the look of hard-surface floors. Wood, for example, is beautiful and comfortable, conveying a natural, easy luxury. Tile and stone floors have the same appeal.

For decades, consumers seeking an alternative to natural wood, tile, and stone surfaces didn't have a great many stylish choices. Vinyl and laminate products were, in the past, popular for their budget friendliness and ease of installation, but no one claimed they were as fashionable as real wood or tile.

Today, that has changed.

Luxury vinyl tile (LVT) and resilient sheet flooring have evolved into sophisticated products that high-end clients are choosing over wood and tile, because the new products look so similar to the natural surfaces they mimic. They perform extremely well and cost less.

Foster Owen, interior designer with Clifton Carpets in Dallas, Texas, has watched this trend evolve. "The look of these floors has progressed so much with technology," he says. "People think they are walking on wood."

Benefits Of Resilient
Available in a fabulous assortment of designs, colors, and textures, resilient flooring brings you exciting new styles that create beautiful rooms.
This type of floor is moisture resistant, impervious to most stains, and easy to clean.
Resilient flooring doesn't need to be waxed—its top layer is made to stay shiny.
Heavy traffic is no problem, because these floors not only handle lots of activity, they're actually resistant to scratches.
Resilient flooring is ... resilient. It's flexible and comfortable underfoot, and there's less breakage when items are dropped.
The price tag is usually a very pleasant surprise.

You can choose from several alternatives in look and construction. There's direct-glue sheet flooring for durable performance and seamless appearance. Or you may prefer luxury vinyl tile or luxury vinyl planks in either direct-glue or floating constructions. Ask one of our sales staff to help you decide which of these options will best suit your space.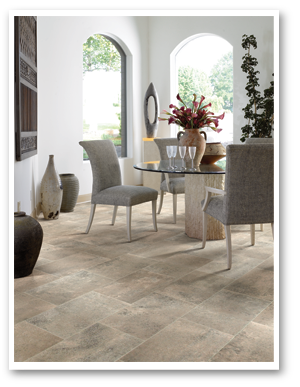 Technology improves look
Foster remembers an LVT in the 1970s and 1980s made to look like brick, with a herringbone pattern and grout lines. That product fell out of favor, along with similar faux looks.

But in recent years, rapidly advancing high-tech processes have transformed LVT and resilient sheet flooring into products that look like the real thing. Such products are available in several price points, with the most expensive lines offering the most realistic look.

One significant change is that LVT and resilient sheet flooring no longer have to have the look of perfection that has long been the giveaway that the products were resilient. Higher-end LVT can effectively mimic distressed and antique floors, Foster says. With products designed to look like wood, longer planks placed irregularly give a look of authenticity, he says.

These products are now found in upscale homes and commercial spaces, a far cry from resilient's origin as a homey, economical option.

They're still offering a look for less money than the real thing," Foster says of the higher-end LVT products. "The price difference is enough of a difference to sway people's minds. Plus it's easy to clean and not easily damaged."

Earth-friendly, family-friendly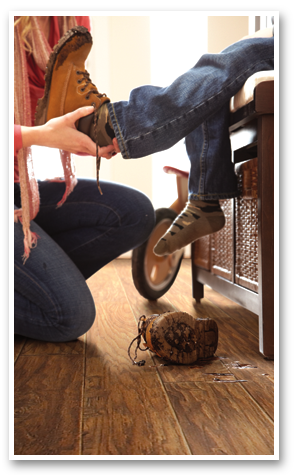 Today's consumers are increasingly interested in Earth-friendly flooring. The new LVT and resilient sheet flooring products address these concerns by using virgin vinyl that doesn't release harmful VOCs and adhesives that don't have fumes. Some can be installed without any adhesive at all. Because the products are durable and have a timeless look, they'll last for decades and not end up in a landfill as quickly.

Foster sees a bright future for LVT and resilient sheet flooring, buoyed by high-tech processes that enable the products to evolve and remain fashionable amid changing consumer tastes.

"Somebody doing fabulous interiors may want stone, marble, or wood, because not everybody is going to want a faux look," he says. "But for most people, the LVT and vinyl sheet flooring products are going to offer the right look and appealing features for the money."